Acne can be challenging to treat and often appears when least expected. The good news is that with the developing technology, doctors have invented new treatment medicines for Acne and pimples. According to the Mayo Clinic, some medicines that some acne treatments may result in unwanted side effects like redness, discoloration, or dryness. So, the best way of treating the problem is through home remedies. They are non-toxic and leave no side effects of its use. Here, we will mention the top 10 best home remedies for Acne and Pimples.
Cucumbers, oats, grapes, and yeast are a few examples of popular foods and products that can be used to make a facial masks and treat acne. A homemade facial mask may keep your skin radiant, moisturized, and healthy while also preventing or treating acne.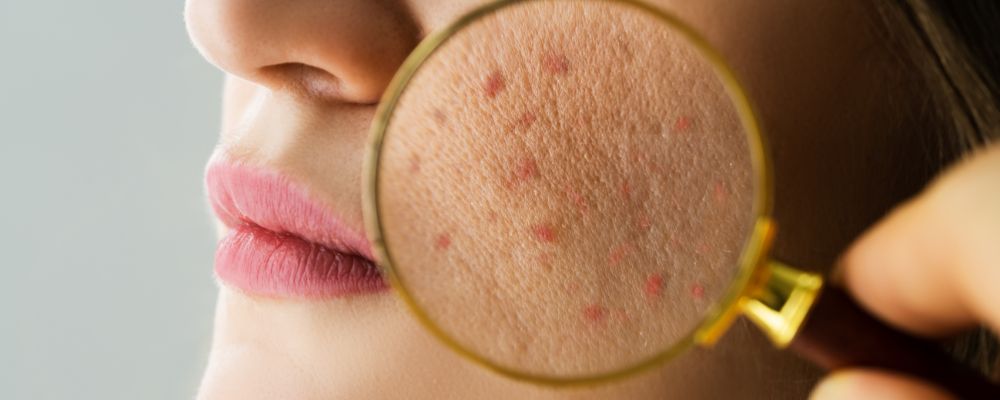 Common Causes of Acne and Pimples
When your skin's pores become blocked with oil and dead skin cells, it leads to the development of acne. The pores have a specific association with the sebaceous gland. It creates sebum which is an oily material. Propionibacterium acnes, often known as P. acnes, can develop more rapidly when excess sebum blocks the pores.
Your white blood cells secrete P. acnes that cause skin irritation and acne. There are many types of acne such as whiteheads, blackheads and pimples that are more problematic than normal pimples. These are all the common symptoms of acne & pimple.
Acne development may be influenced by a variety of variables, such as:
Infections
Genetics
Food
Hormone changes
The best method for reducing and eliminating acne is standard treatment. However, the standard treatments can also result in some side effects. This is the reason home remedies are provided in the Homeopathic field to help patients eradicate the real cause of the problem.
Top 10 Best Home Remedies for Acne and Pimples
To completely avoid the problem of acne and pimples, home remedies are recommended along with some medications. It is always recommended to consult a homeopathic doctor before starting any treatment. Here, we have mentioned the 10 best home remedies for acne and pimples that are recommended by the most experienced homeopathic doctors.
1 Honey & Cinnamon
Honey and cinnamon, both of which have antibacterial qualities, can be combined to create a paste. You can also make it a paste using a small amount of Rosewater. Apply the mixture to your face and wait 10 to 15 minutes before rinsing it off. This paste is a strong relief for acne and pimple. The honey helps in the complete removal of acne from basic causes.
2 Lime Juice
Lemon juice is one of the best treatments for treating acne because of its exfoliating properties. What you need to do is simply squeeze some lemon juice into a plate and a few drops of rose water into it. Take a cotton ball and apply this mixture to the place where your acne is visible on the face or neck.  This will help stop the pimples from growing. It will also promote glowing and fresh skin and lessen the visibility of scars.
3 Aloe Vera
The skin will flourish if you start applying aloe vera on your skin. Take a stalk of aloe vera and it in 2 parts. Scoop off the gel in half and dab it on the portion of acne. Say goodbye to bacterial infections and inflammation-related acne by including this habit in your daily routine. An herbal store may also sell Aloe Vera gel for skin care, but you should check the label to make sure it doesn't have any additional components.
4 Almonds
This superfood's high mineral and vitamin E content makes it a crucial component of the majority of scrubs and face masks because it helps to rejuvenate the skin. Take some almonds and blend them in a mixture for a few seconds, then add a few drops of water. Use the mixture for spot treatment or as a mask. Apply it on your face for 30 minutes and clean it. You will observe the difference.
5 Rose Water
Rose water is a common treating element that is well known for having anti-inflammatory characteristics. It is considered an excellent material for minimizing the scars left by a pimple. Additionally, rose water is used as a calming agent, which reduces the redness on the skin and soothes inflamed skin. Use it as a toner to apply it as a toner on your skin.
6 Tea Tree Oil
Whiteheads, blackheads or acne can all be treated with home remedies. Take small cotton and dab some oil onto the acne in the morning and at night to completely remove it. The best thing about Tea tree oil is it provides both anti-bacterial and anti-microbial. Additionally, it also has calming qualities that help in lessening the discomfort associated with ingrown pimples. If you have sensitive skin, apply the oil to the skin after diluting it with a normal oil (coconut oil) that soothes the skin.
7 Yogurt
A common material lactic acid is found in yogurt which helps to exfoliate dead skin cells. The cultures that are inside the yogurt have anti-bacterial characteristics which helps to produce clear skin. Take 1/4 cup of organic and plain yogurt and apply it on your face with a tiny brush. Keep it for 10 minutes and Wash it off after it is completely dry. Having yogurt in your diet is a great approach to supporting healthy skin for life.
8 Papaya
Since papaya is a common fruit that is used for acne-curing. There are numerous nutrients in papaya that can both prevent and treat acne. Two antioxidants which are Vitamins A and C speed up cell turnover and reduce the chances of acne on the skin. It works well as a gentle exfoliant when used topically. You can mash and blend Papaya to apply it on the skin.
9 Fuller's Earth (Multani Mitti)
Fuller's Earth or Multani Mitti has magnesium chloride which helps in treating acne and preventing outbreaks. Fuller's Earth is a well-known material that cleans the skin and eliminates dirt and pollutants that might block your skin pores. Take one and a half tablespoons of multani mitti and mix with normal water or rose water and then apply to your face. Wait for the face mask to dry out. Wash after it. You will observe the results in a few weeks.
10 Mint
Mint helps in the complete removal of clogged pores and in avoiding bacterial infections. Take two tablespoons of fresh mint and mix that with coarsely chopped two tablespoons of yogurt along with oats to help you keep your face acne-free. Apply a smooth paste after whisking on your face. Keep it for 10 minutes and rinse it off with cool water.
Conclusion
All of these remedies for homemade face masks use basic materials that you can find in your refrigerator and pantry. They are the best home remedies that can refresh your skin and help clear acne. To treat acne-prone skin, try one or more of these treatments and observe how your skin reacts.
It is always recommended to consult with a good homeopathy doctor before starting any treatment. You can connect with Afecto Homeopathy to get the best diagnosis and fruitful treatment that gives long-lasting effects. Our doctors are well versed having more than 20 years of experience that provide the best treatment methods for any of your problems.